AN IMPORTANT NEW BOOK BY TONY KEVIN
NEW ITEM:
'A new look at current boat people policy issues'  – Tony Kevin 21 June 2015
`- Essay written for the Homepage of my website www.reluctantrescuers.com
ABSTRACT: It is now timely to offer interested readers an update (as of today, 21 June 2015) on my analysis of the complex moral and policy issues addressed in my book Reluctant Rescuers published in April 2012. We face a radically different situation today. I suggest that fresh policy thinking is now needed from all political parties on the issues addressed in my book. Continiue Reading 
-------------------

An exploration of the Australian border protection system's safety record in detecting and intercepting asylum-seeker boats, 1998-2011

– An important new book, self-published by Tony Kevin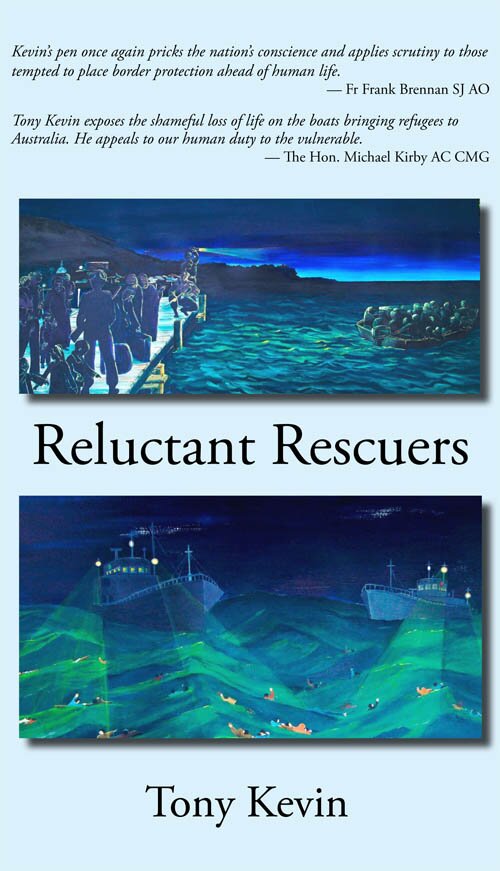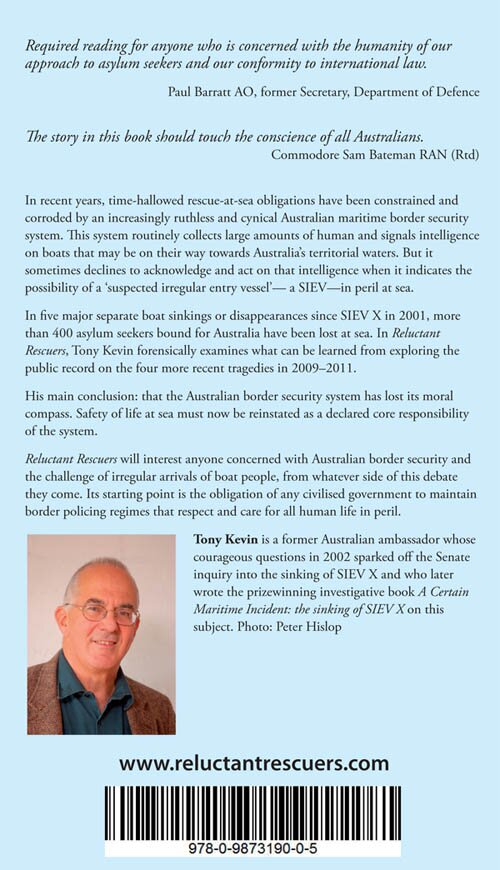 In recent years, time-hallowed rescue at sea obligations have been constrained and corroded by an increasingly ruthless and cynical Australian maritime border security system. This system routinely collects large amounts of human and signals intelligence on boats that may be on their way towards Australia's territorial waters. But it sometimes declines to acknowledge and act on that intelligence when it indicates the possibility of a 'suspected irregular entry vessel'—a SIEV—in peril at sea.

In five major separate boat sinkings or disappearances since SIEV X in 2001, more than 400 asylum seekers bound for Australia have been lost at sea. In Reluctant Rescuers, Tony Kevin forensically examines what can be learned from exploring the public record on the four more recent tragedies in 2009–2011.

His main conclusion: that the Australian border security system has lost its moral compass. Safety of life at sea must now be reaffirmed as a declared core responsibility of the system.

Reluctant Rescuers will interest anyone concerned with Australian border security and the challenge of irregular arrivals of boat people, from whatever side of this debate they come. Its starting point is the obligation of any civilised government to maintain border policing regimes that respect and care for all human life in peril.
Tony Kevin is a former Australian ambassador whose courageous questions in 2002 sparked off the Senate inquiry into the sinking of SIEV X and who later wrote the prizewinning investigative book A Certain Maritime Incident: the sinking of SIEV X (Scribe, 2004, 2006, 2008) on this subject.

Reluctant Rescuers will shortly be available for direct purchase from this website as a high-quality print book, or the text may be downloaded free as an e-book with a voluntary donation requested (a website page on this site will handle these transactions).

The book will also be available for over-the-counter purchase from selected leading independent bookstores ( at this stage, Paperchain in Canberra, Readings in Melbourne, Gleebooks in Sydney).

NLA cataloguing details:
ISBN     978-0-9873190-0-5 (paperback)
978-0-9873190-1-2 (online)
National Library of Australia Cataloguing-in-Publication data:
Kevin, Tony, 1943–
Reluctant rescuers : an exploration of the Australian border protection system's safety
record in detecting and intercepting asylum-seeker boats, 1998–2011 / Tony Kevin.
ISBN 978-0-9873190-0-5 (pbk.).
Includes index.
Coastal surveillance—Australia.
Coastal zone management—Australia.
Coast defences—Australia.
Refugees—Government policy—Australia.
Marine accidents—Investigation.
Refugees—Australia—Death.
Australia—Emigration and immigration—Government policy.
363.286